Shopping Basket
Your Basket is Empty
There was an error with PayPal
Click here to try again
Thank you for your business!
You should receive an order confirmation from Paypal shortly.
Exit Shopping Basket
Thank you all for your coments on the blog during Emma's Garden Blog Tour.  I was a bit late drawing the winner tonight, but I used Random.org to choose the number of the comment who won:  
DRUMROLL PLEASE
O|O|O|O|O|O|O|O|O|O|O|O|O|O|O|O|O|O|O|O|O|O|O
Search RANDOM.ORG
True Random Number Service
Random Integer Generator
Here are your random numbers:
1
Timestamp: 2014-08-23 04:45:07 UTC
And comment number 1 was :  
Jane Powell 8:16 AM on August 16, 2014
Bee Damask is my favorite. I really like this whole collection. Patty did a fantastic job!
Congratulations Jane Powell. Please send your email address so we can get all the info to send you your fat quarter bundle of Emma's Garden.  Thanks again for those comments!  
Have a great weekend everyone!  Happy sewing and quilting!
Baby Sawyer, the second child of some friends of mine, was born yesterday, a couple of days early, but that was a blessing to my dear friends who we anxiously awaiting his arrival.  
I wanted to make Sawyer a quilt and since I have known about this for at least six months, you would think I had already finished it.  But, no, I had other things in the works and I did not start this quilt until Saturday night, yes, August 16.  Actually, I might have started a few days earlier cutting squares of fabric for the quilt.  
I enjoyed the quilt I made from Emma's Garden using HSTs so I decided to do this one the same.  They are so versatile.
For Sawyer's quilt, I cut out 9.5" squares from all my fabrics which included most of Riley Blake's Fun & Games by Lori Whitlock.  Here are a few of them.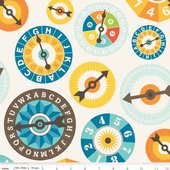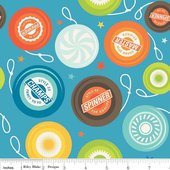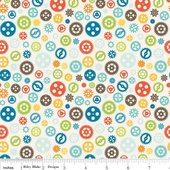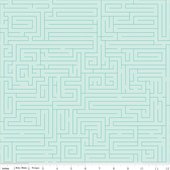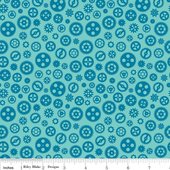 I added a few others from Art Gallery in blues and grays from Oval Elements collections.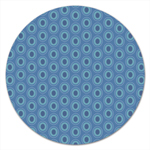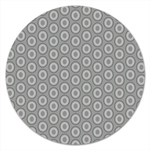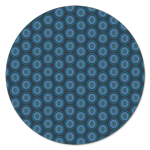 Sawyer's room is decorated in blues, grays and a hint of aqua.  
I matched a light and dark square with the help of Rebekah and started sewing all the squares around the four sides.  I finished this by Sunday night.  On Monday, I cut each sewed pair on the diagonals.  Then I discovered the Bloc-Loc Rulers.  I used a 6.5" square to trim all the HSTs down to 5.5"  These rulers are excellent if you want accurate HSTs.  You can find them here.
I cut out 72 HSTs from the squares and proceeded to design a quilt for Sawyer.  It only took a few hours Tuesday evening to put the blocks together.  I quilted it and machine bound it Wednesday morning.  I'm ready to go meet Sawyer and present him his quilt.  Here's the front and the back as well.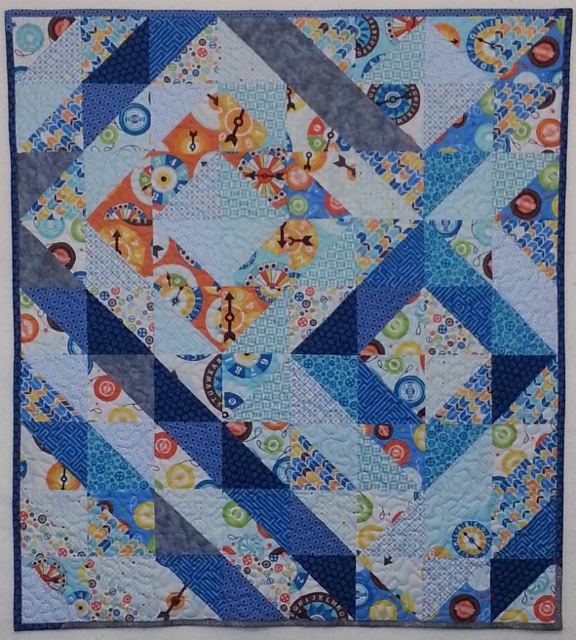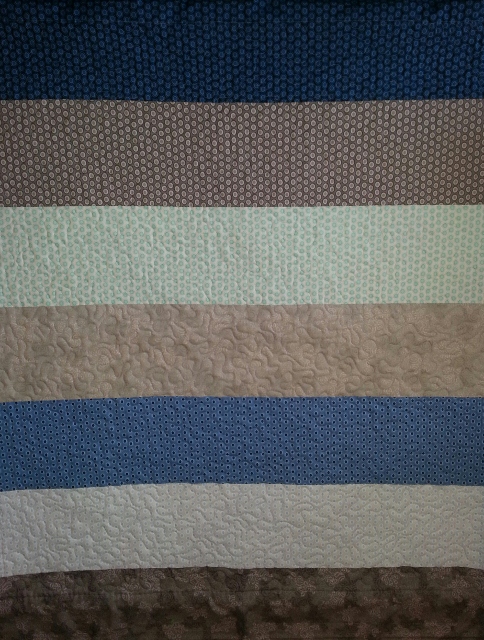 Well, that's a great accomplishment for me today.  I'm almost ready to see the new arrival.    
There are just a couple more days before I draw a winner of the Emma's Garden bundle, so if you did not already comment, check out the post before this one and comment to win.  Drawing is Friday at 5 pm CST.

Today, I'm very lucky to be featured on the Emma's Garden Blog Tour.  I'm so glad you stopped by.  It is a great honor to be invited by Patty Sloniger to be part of the tour and more importantly, great to have the opportunity to make fun items with the new Emma's Garden fabric line designed by Patty Sloniger for Michael Miller Fabrics.   I first met Patty when she came to Houston Modern Quilt Guild and told us all about how she became a fabric designer.  I was instantly enamored with her amazing fabric designs.
I fell in love with the Emma's Garden collection immediately because of the rich, vibrant colors, in both florals and graphic patterns.  The Michael Miller cotton feels silky to the touch and just begs to be fondled.  We quiltaholics do have a problem fondling fabric, don't we?    The Garden Bouquet and Big Blooms really stand out as my favorites and I can think of lots more things I would love to make from them.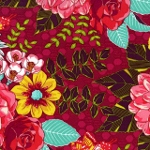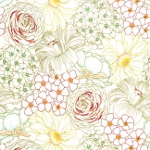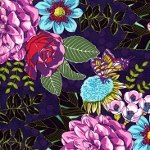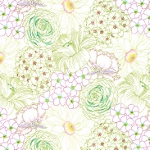 Just a few of weeks before spring market, Patty provided fabric and I began cutting and sewing faster than a speeding Janome.  I made a cute baby quilt using Emma's Garden Blush Colorway.  I started with just a six inch strip of each fabric, I matched up each one with a white strip and cut six inch squares of each.  Sewing around all four sides of the squares and cutting on the diagonals, I made lots of half square triangles.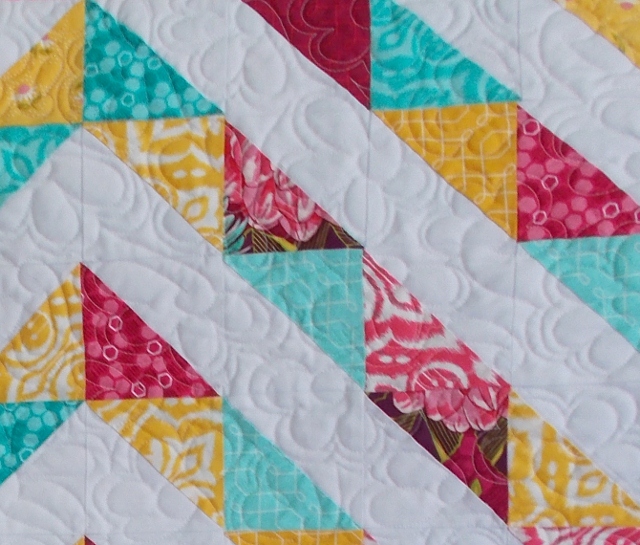 This is so easy to do that I did not even need a pattern.  Then the fun began as I layed out all the half square triangles to design a quilt.  
Here is the cute baby quilt which I also quilted all over with flowers since Emma's Garden is abundant with flowers.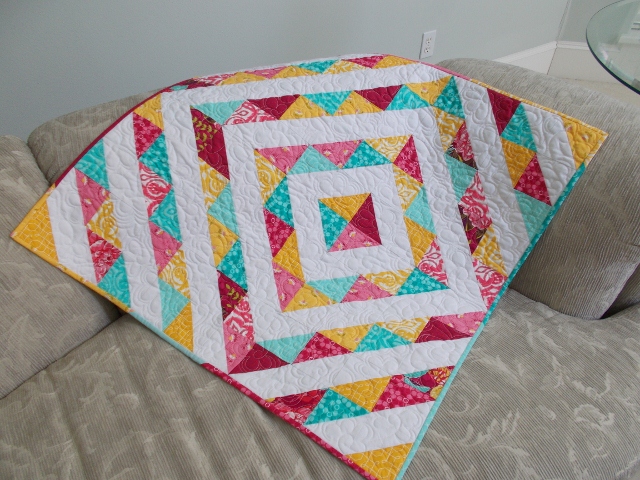 I actually made enough half square triangles to make a table runner to brighten my table in spring and summer.  I changed up the design a bit and quilted this a little differently.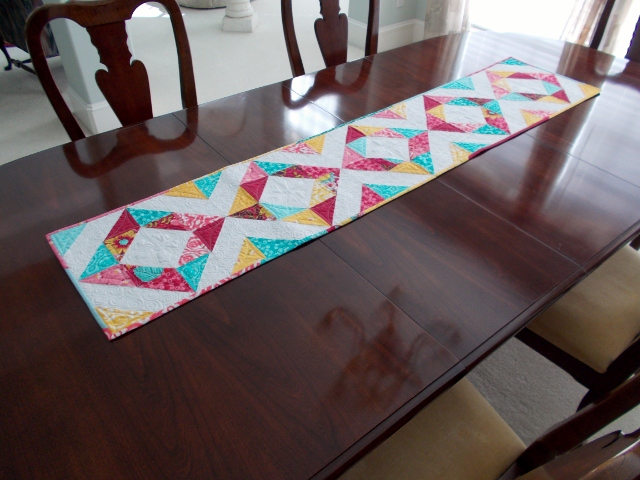 The center of each square is quilted with a funky flower and swirls to adorn the negative space.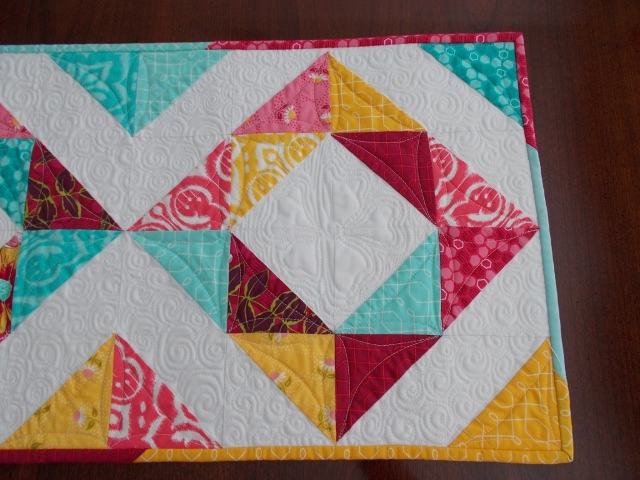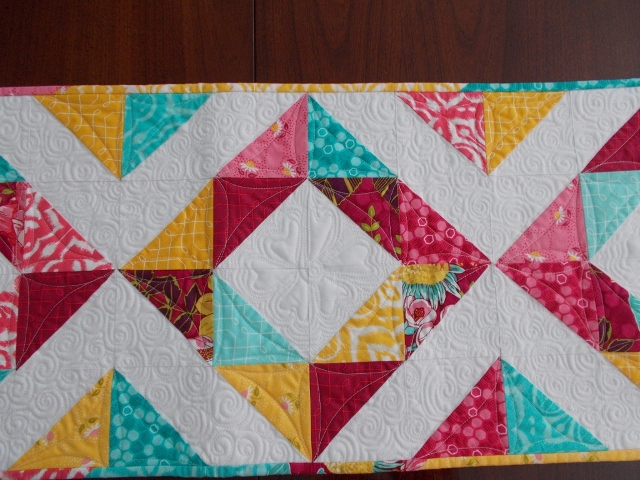 The great thing about half square triangles is all the fun designs you can make with them.  
Houston Modern Quilt Guild went on a retreat in early May.  During the retreat, I made a paper pieced circle of geese pillow from all the pinks, violets and purple fabrics in the collection.  This pillow was lots of fun to make and really goes together quickly with just four blocks and some added borders.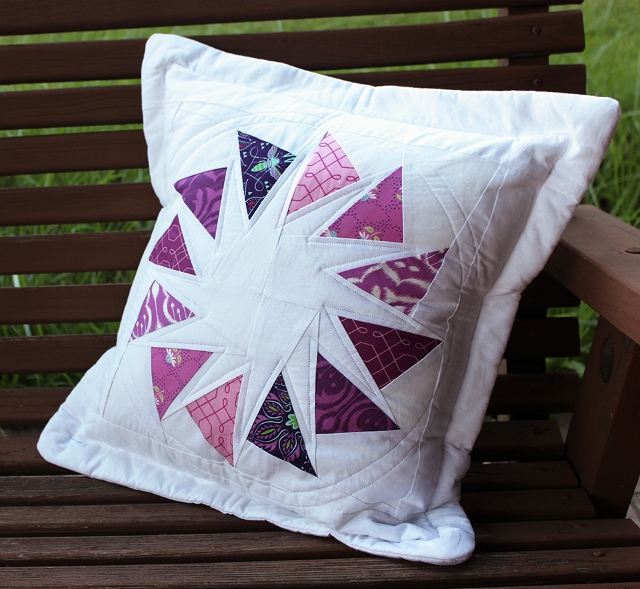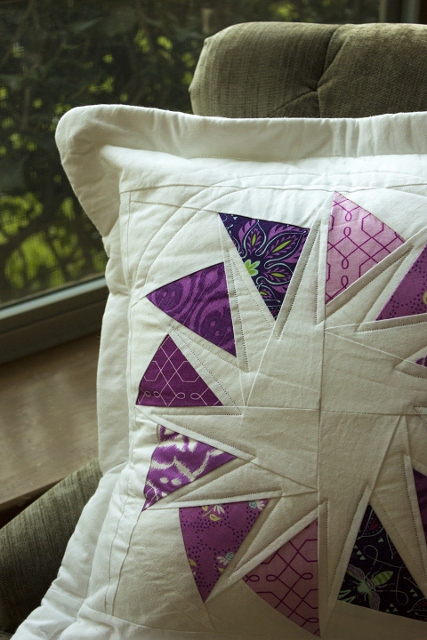 These flying geese got some simple straight line quilting.  You can find this free patern on Craftsy.  
Patty has generously donated a fat quarter bundle of the Blush colorway of Emma's Garden and you could win it by commenting below.  Tell me what your favorite fabric is from the entire collection of Emma's Garden. As always, if you are a no-reply commenter, please leave an email address for me to contact you! I'll pick a winner on Friday, August 22!
I hope you have been enjoying the blog tour each and every day, but in case you missed a day, check the schedule below
Don't forget to pop over to beckandlundy tomorrow for a Grand Finale giveaway!
8/7 - Michael Miller's website (that's Patty!) www.makingitfun.blogspot.com
8/8 - Hilary - youngtexanmama
8/9 - Karri - karriofberries
8/10 - Felice - sewscatterbrained
8/11 - Sally - sallysangelworks
8/12 - Liz - www.fatchickquilts
8/13 - Julia - starsandsunshine
8/14 - Jacey - jaceycraft.blogspot
8/15 - Sophie of C'est LaVie - lescrapdesoph
8/16 - Pam - pamquiltaholic
8/17 - Patty (yup, that's Patty's wrap up!) beckandlundy
If you would like to purchase your very own Emma's Garden bundle you may shop right here on my website.  Just click Shop now.  
Most mornings, I scroll through the numerous emails that have come in over night.  I'm sure you have the same issue that there are more than you can possibly read in your inbox each day... so most of the time, I scan for important ones from friends, family and fellow bloggers and then maybe read a few of the others that have interesting subjects.
Well, today, I happened to read The Quilt Show.com and lo and behold, I see a topic called 1st Time Entrants...Really?  I have always loved reading The Quilt Show.com but today was the most special day of all days.  My quilt, "Point Me in the Right Direction" was featured in the slide show of 1st Time Entrants in the 2014 Paducah AQS show.  I entered it in a category called Bed quilts 1st Paducah Show because it was of course my first time trying to get a quilt into a show like that.  I made this one before I started longarm quilting and Laurie Tigner quilted this for me and the quilting is stunning.   You can watch the show here:
http://secure.smilebox.com/ecom/openTheBox?sendevent=4e4445774d444d314e54513d0d0a&blogview=true&campaign=blog_playback_link&partner=smilebox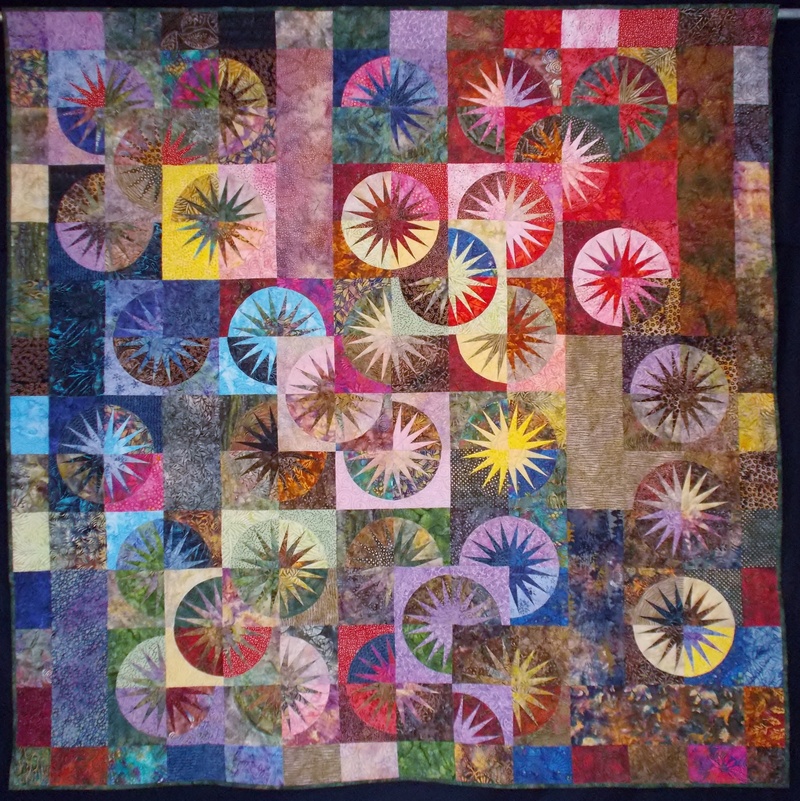 I hope you enjoy seeing all the quilts as well as mine.  Mine is toward the end, but you will love seeing them all.  
Hope you get to sew or quilt in your spare time today!  Have a great day!
Pam Quiltaholic
In the last few days, I spent some time practicing various patterns in order to use them on a quilt I am working on for a dear friend and customer.  Some of these took on a new life as I tried various changes and added my own touch to patterns I learned on Craftsy from classes such as Quilting the Negative Space by Angela Walters.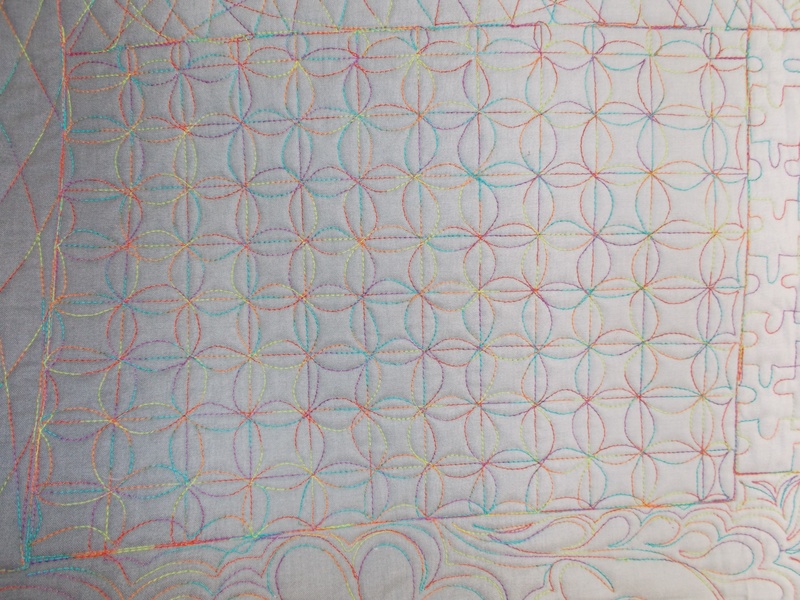 These were my continuous curves, which sometimes appear to be circles, but even when they don't, they are cute.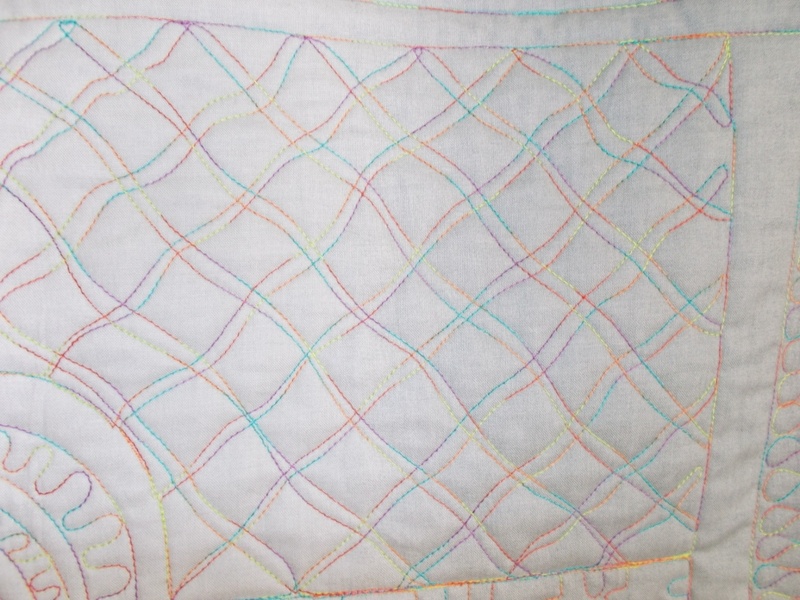 One of my favorites learned in Linda Taylor's class at the International Quilt Festival in Houston last year.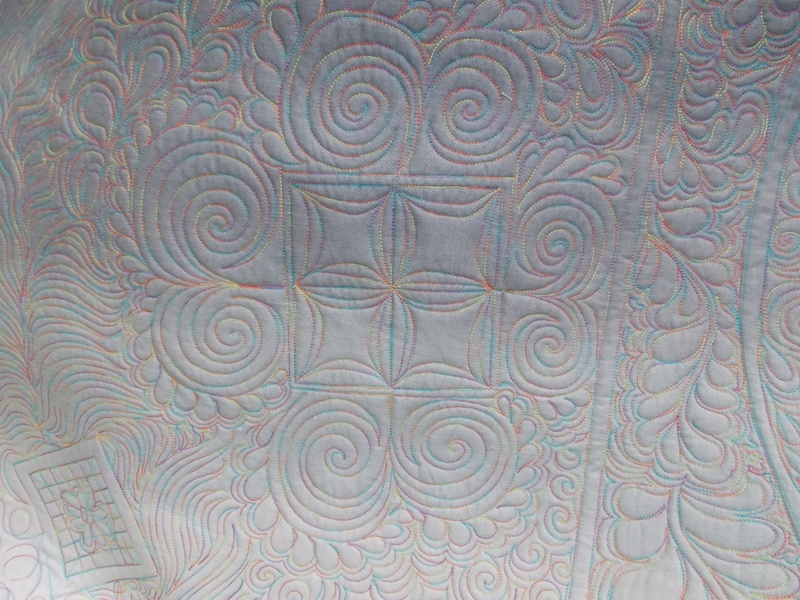 I called the center motif Random Happening because that is exactly how it occurred.  There was really no plan before I started this and it just grew as I quilted...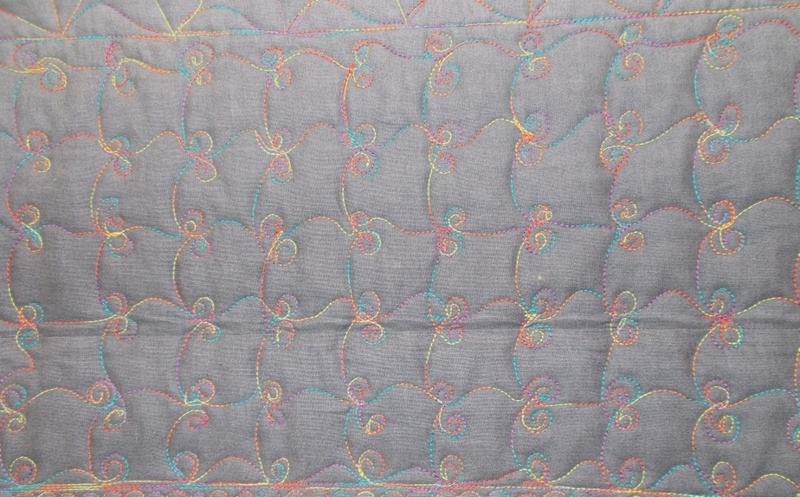 I called this Doodle Bug.  I know that is silly but as I was practicing the wavy continuous curves, I added a little swirl in the corner  and it just made me think of watching those litle bugs when I was a child.  I did play in dirt a whole lot......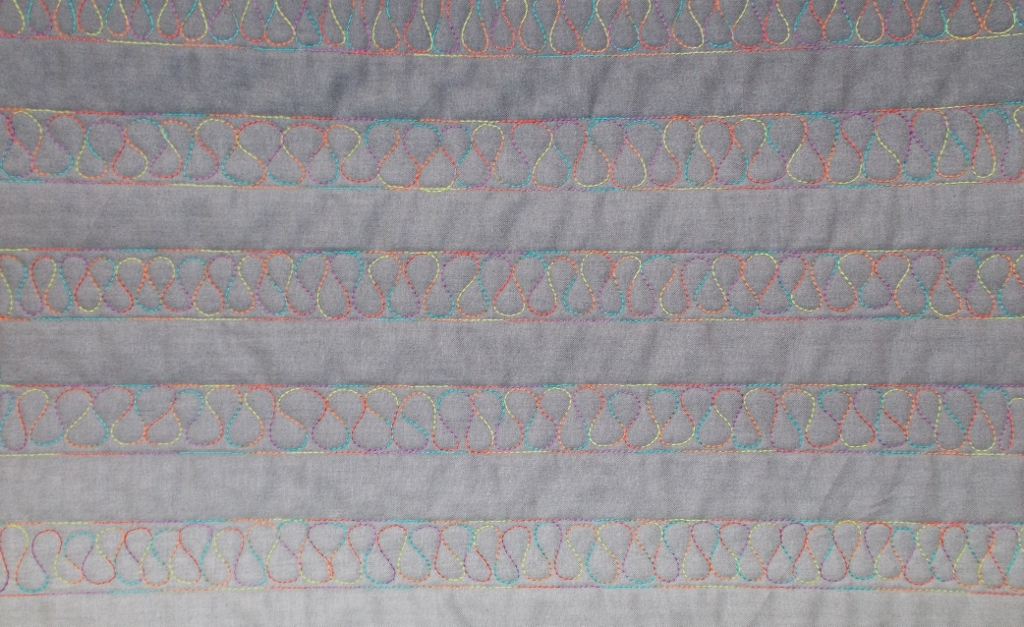 These figure 8's are coming along.  They might not be perfect, but they are little.  The parallel lines are one inch apart so these little figures are less than a half inch.  I  like to do small quilting.  This King Tut Thread called Cleopatra makes everything look pretty.....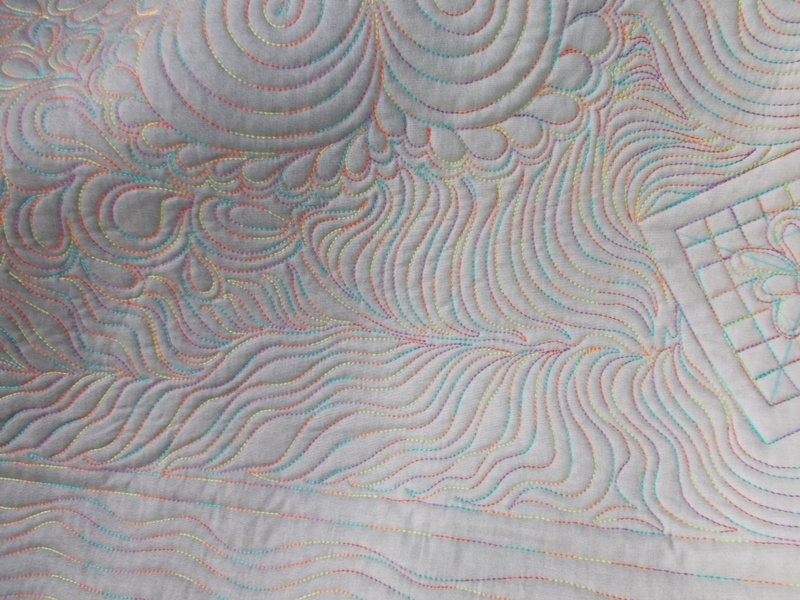 These fern leaves can get very tiny so I really have to control myself ....I did use an entire cone of the King Tut thread on this queen size practice piece.....and that was just on the top, not the bobbin.....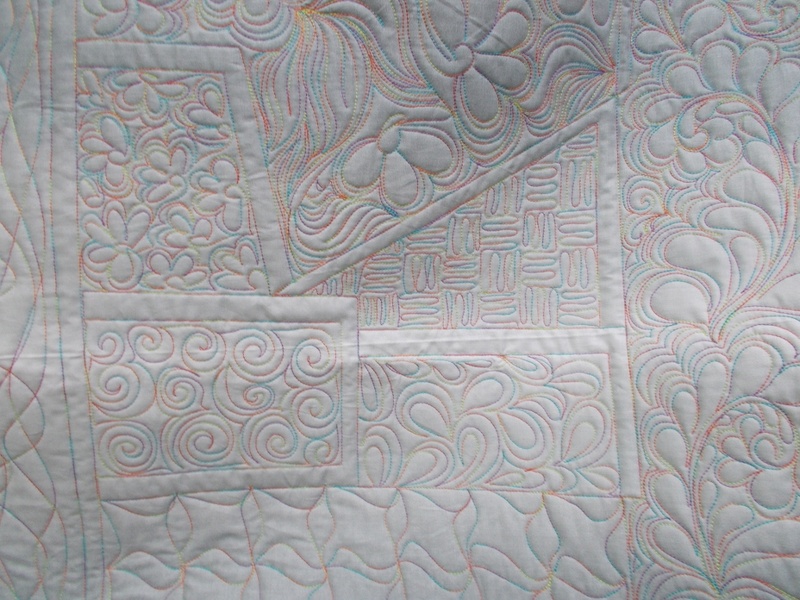 Quilting boxes around some quilting was something I learned in Angela Walters' Craftsy class Quilting the Negative Space.  I have not used it but a few times, but I love it when I do.....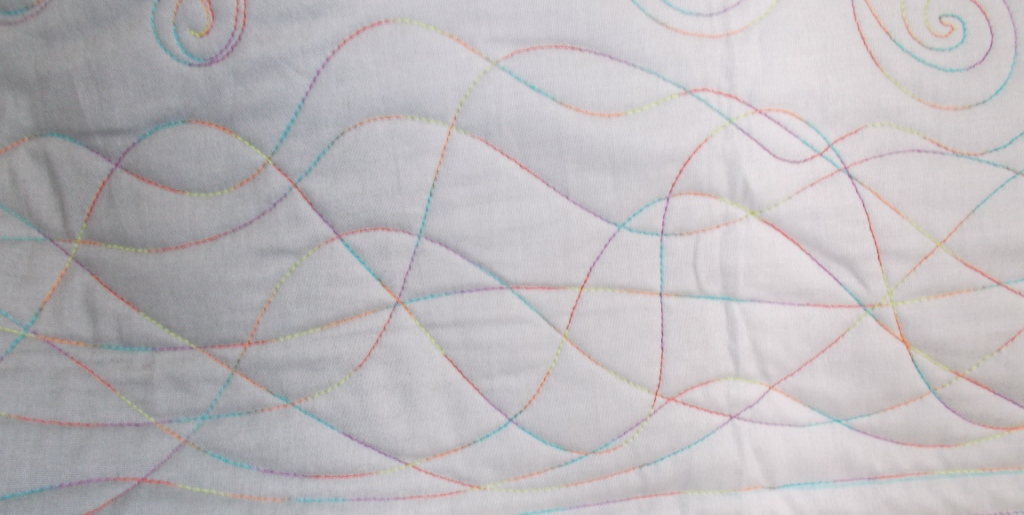 I have a friend who has requested this on several quilts and so, I have named this for her --  Amy's Wave.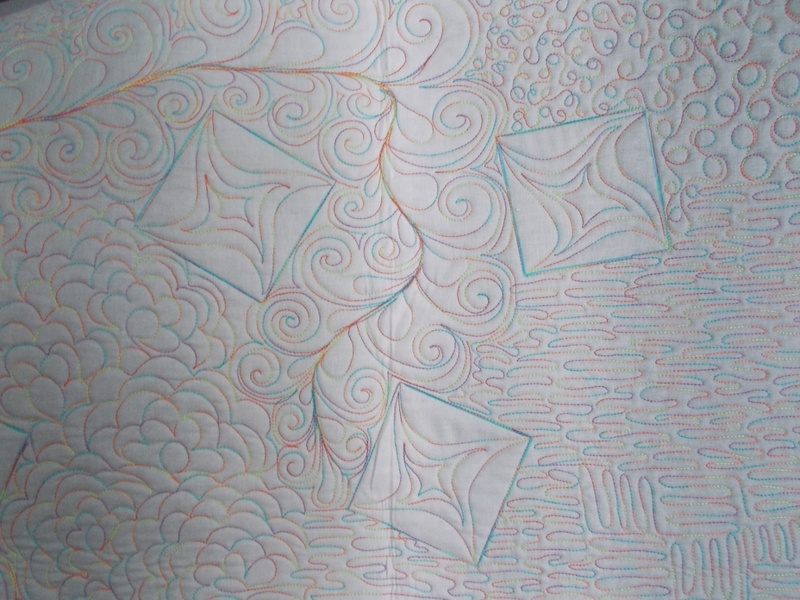 I had so much fun with various designs, I just called this Play.  Quilting is very much like play.  It makes me happy and hopefully makes someone else happy when they see their quilts or they receive a quilt that I have quilted.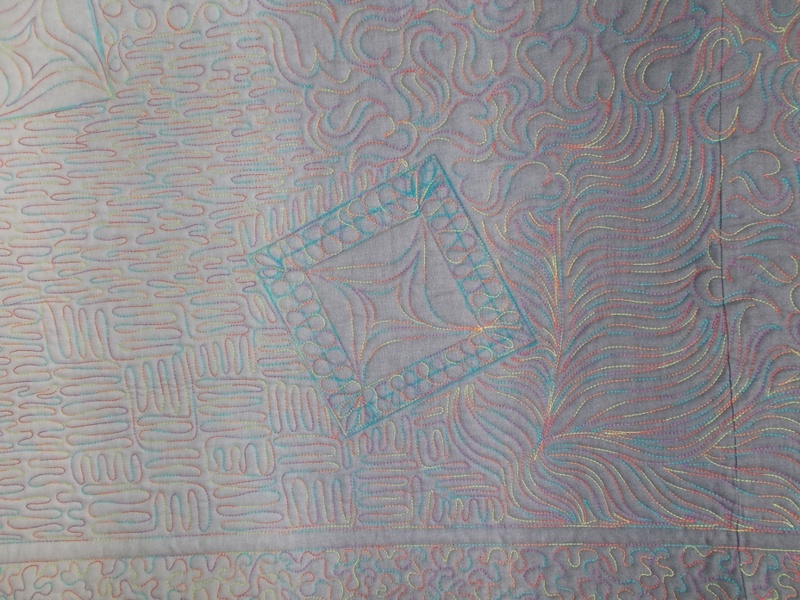 Just a bit of everything in here so I called it the Kitchen Sink.  I see some hearts I learned from Nichole Webb Rivera who I miss because she now lives in Washington. But I love Washington, too, and if she ever needs company, I would love to visit!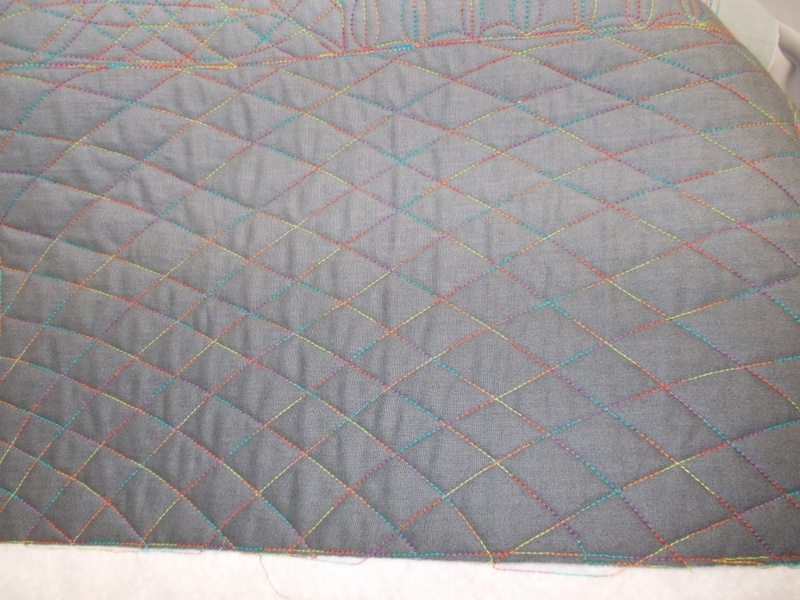 I will soon be taking a class to learn to do curved crosshatching, but I thought I would try something that looks like what I think it should but just doing it free hand.  This is without templates and well, it is not too bad for a first time....
Well, I better get a quilt on the frame and start some real quilting.  The practice was fun and necessary.  I think that with everything we do, "practice makes perfect, or at least practice makes better".  
If you see any designs you like, let me know and let me know how much time you spend practicing any tasks that you want to get better at...
Have a wonderful day and hope you get to sew and quilt in all your spare time.
Pam Quiltaholic
/