Shopping Basket
Your Basket is Empty
There was an error with PayPal
Click here to try again
Thank you for your business!
You should receive an order confirmation from Paypal shortly.
Exit Shopping Basket
If I want a laugh, I just have to look at myself to see all the funny things I do.  Last Saturday, I went to a great workshop taught by our own Cathy W. of the Houston Modern Quilt Guild.  She taught us how to make a lovely scrappy trip around block and quilt using a strip piecing technique, both fun and simple.  
I had selected a red, white and black theme for my quilt, packed up all my fabrics, and tools including sewing machine but when I got to the workshop, guess what I forgot?  The machine!  Well, that was not the only thing I forgot that day, but it is rather funny that I go to a sewing workshop and forgot the machine.  I've heard of other people doing that, but I usually could not believe one could forget the machine.  Yep, now I believe it.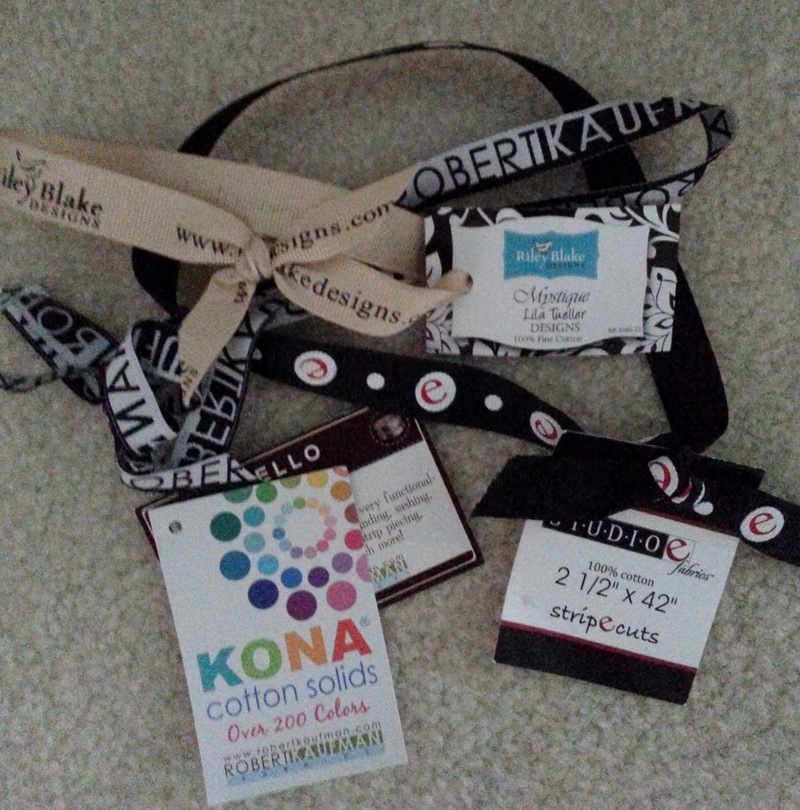 I love those precuts held together by ribbons and these are the ones I used:  Kona solid white Roll Up, Riley Blake Mystique, Studio E Essentials VII and a few other Riley Blake fabric pieces, some rich lush Cherrywood fabrics in reds.  I'm very lucky to have a great friend who just happened not to bring her fabric that day and offered to sew my fabric so it all worked out pretty good for both of us.  And she did a fantastic job of sewing for me.  Thanks Janet!  Here is one of the beautiful blocks!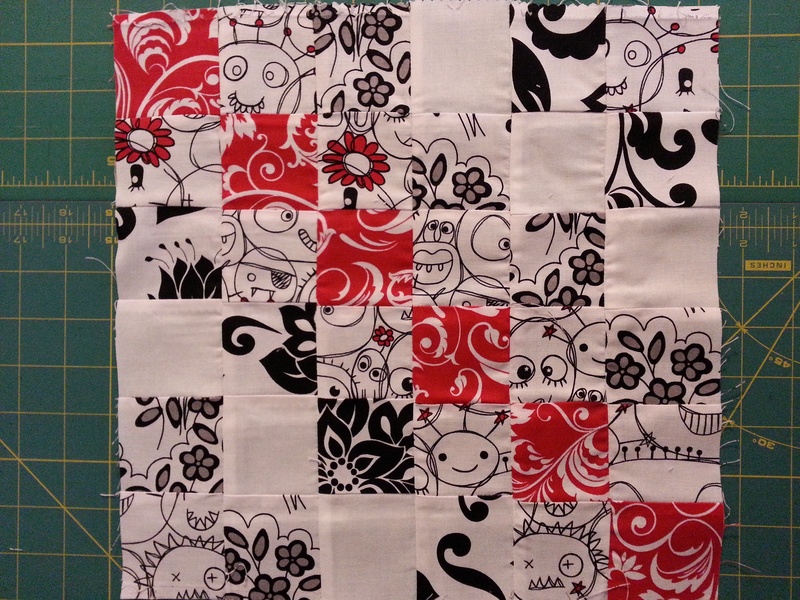 So, I picked my stripsets and made a few and began to cut the pieces. It took 6 strips to make a stripset and 6 cuts of a stripset to make a block.  The idea was to make the stripset into a tube, then cut pieces from the tube to make the block.  Unsewing at different places in the tube made each strip different and allowed the block to have movement.  However, last night, I forgot to make the tube before I started cutting my pieces from the stripset.  I got a laugh out of that, but I discovered a great timesaving technique in my mistake.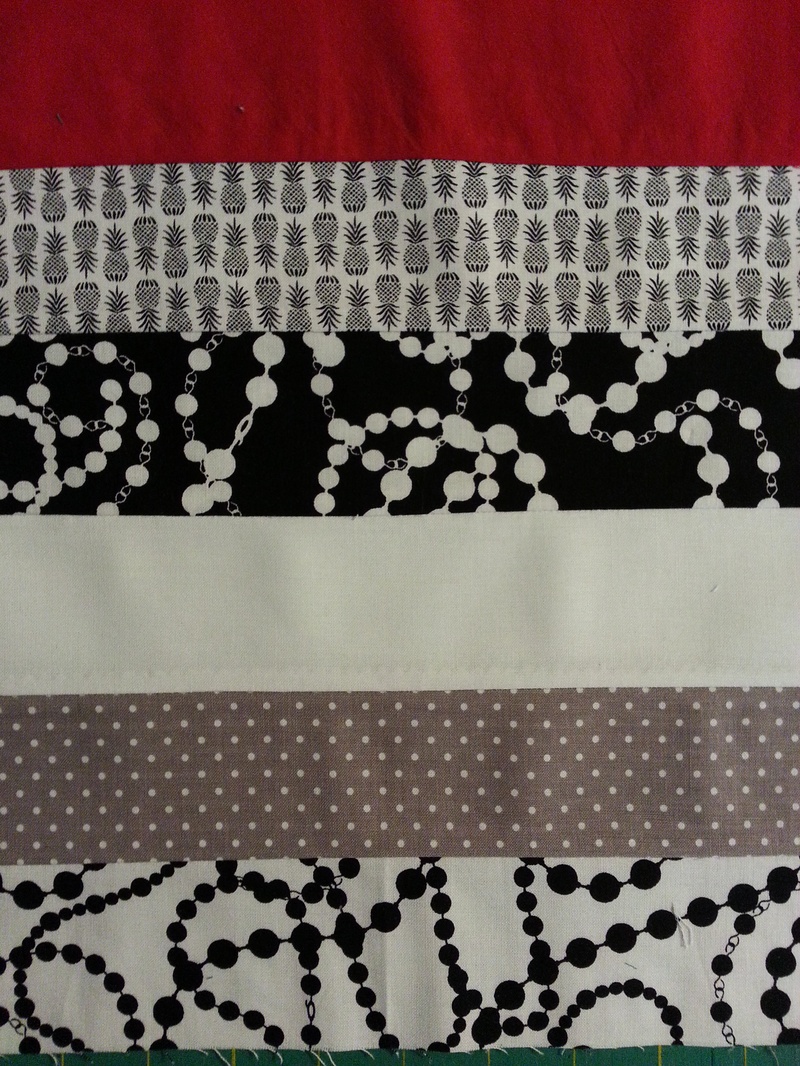 Because I cut some pieces before making the tube, I was able to use these two pieces for the first column and last column of my block, and then I did not have to unsew these two pieces.  I then sewed the tube and cut the second, third, fourth and fifth column which I will have to unsew at different places.  But, in my mistake, I discovered how to save the time of unsewing over 52 pieces which I would have had to do if I sewed the tube first.  Yea, this all worked out in the end....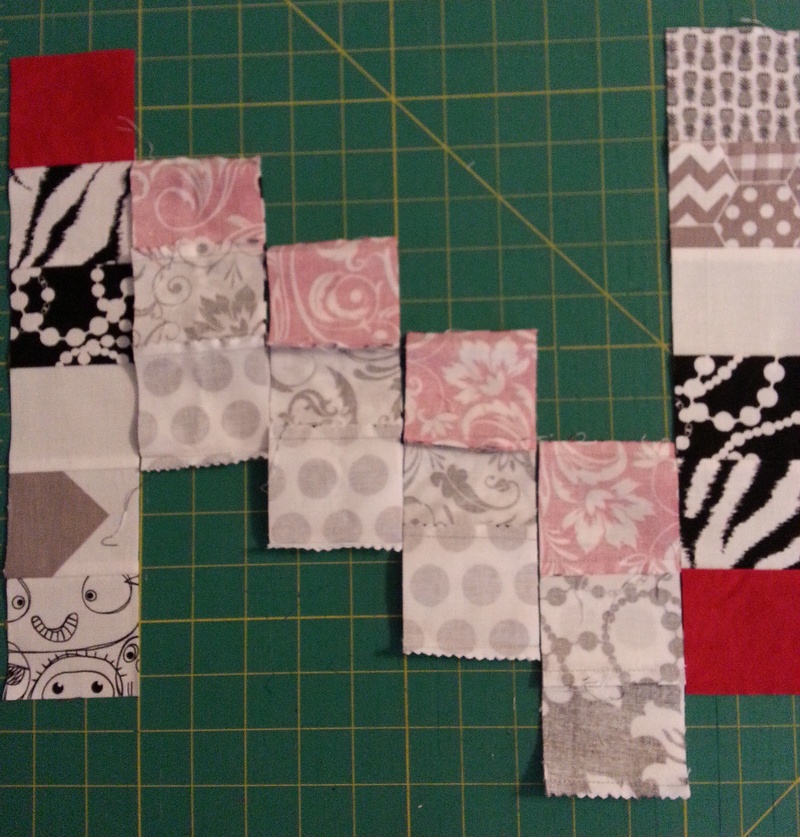 I now have some blocks, some stripsets and some pieces to make more blocks and hope to make a quilt from all these soon.  
Do you have a funny story about something you did and can laugh about it now?  I'd love to hear about it!
Do you ever think about doing something, but just never get around to doing it?  Well, that is what I have been doing for a while....thinking about blogging.  So, today, I decided, it is about time I start this blog.  
This week went by so fast.  On Monday, I learned to time my longarm.  (Every longarm quilter needs to do this eventually.)   I was so fortunate to have the help of the 24/7 technical support for Innova longarm machines.  That was one reason I chose the ABM International Innova machine - because of the 364 day a year, 24 / 7 support which is just a phone call away.  I first watched the video showing how to do it and then the tech support person, Michael, took me through the timing process step by step.  Cameras on cell phones and texting pictures was very helpful as Michael explained each movement to make and identified from my picture whether it was just right or needed a little more tweeking.  When completed, the process was successful.   Thank you Michael and Innova!
The next day, I attempted to bind a quilt while waiting for a friend to have some tests done in the hospital.  I'm still working on that binding.  It is a slow process for me.   This is the quilt I was binding, before I quilted it.....will post finished picture later.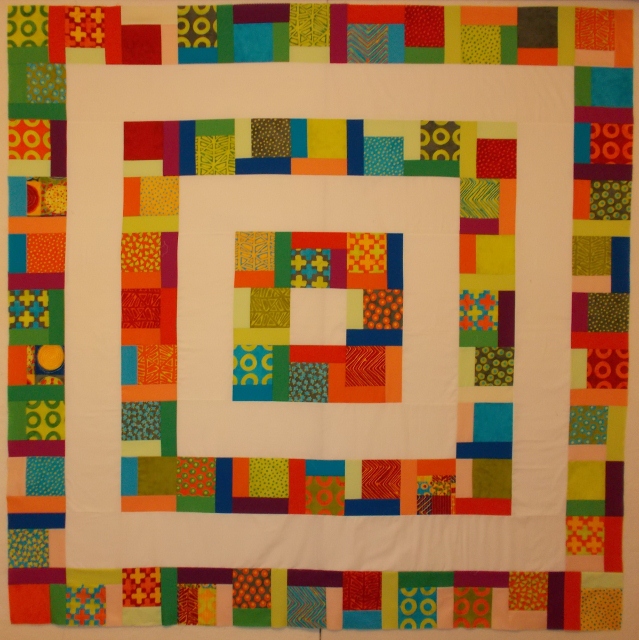 Another day, I had a couple of friends come over to my studio and I entertained them with what I do and how I do it.  I don't really think I was teaching, but I was just telling them how and what I do when I start a quilt on the longarm and showed them a few tools, books, and shared a lot about the various classes I have had and teachers I have learned from.  It was lots of fun.  Sharing always makes me feel good and I hope that I might have said something that was helpful to my friends.  I learned some things from them too and I will put those things into practice immediately.  

Then, the next day, I went over to help a friend with her longarm experience.  I hoped to share my technique of checking and setting the tension, something that you have to constantly be aware of.  We started off pretty good and due to some issues with the stitch regulator, we ended up stitching in manual mode.  This actually went very well.  I have a great attitude about things like this:  Just Do It.  (Wait, is that someone else's saying?).  Hope they don't mind me using it too.  My friend finished quilting the quilt that had been on her machine for almost six months and it turned out great.  We loaded another quilt which was a charity quilt for our guild, Houston Modern Quilt Guild.  We changed threads, tested the tension and it was great.  Still stitching in manual mode, she had almost stitched across the quilt once and I felt of the back stitches.  Uh oh, it did not feel so good.  So, we picked out stitches, but I had to leave before it was all picked out.  I felt bad about that, but she did finish picking it out that evening and got started all over again and I think the tension was good after that.  I had tested a small section on the right before leaving and it appeared to be ok.    

So, here's Friday, and the week is almost over.  I decided I need to start blogging.  I will wrap this first blog up and get back to the fun stuff:  quilting.  

What will you be doing that is fun today?    

0

/